Events
2018 Events: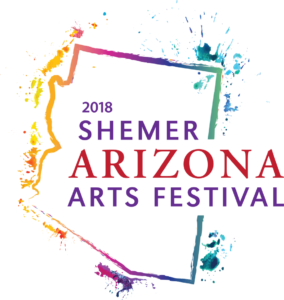 Saturday AND Sunday, Nov. 3-4, 2018 | 10 am – 4 pm
Each year this two-day event (formerly Sunday @ Shemer) kicks-off holiday shopping with more than 40 artists specially selected from all across Arizona showcasing one-of-a-kind works, plus artist demonstrations and interactive opportunities to create your own glass, blacksmith or ceramic gifts!  There will be children's art activities in an interactive $5 Kids Zone, live music, food & beverage vendors, and a silent auction!   The Shemer Arizona Arts Festival is a fun, family way to enjoy the art of Arizona AND benefit the non-profit Shemer Art Center!
Admission: FREE!
For more information click HERE!
Interested in VOLUNTEERING click HERE!
Interested in SHOWCASING YOUR ART ORGANIZATION click HERE!
Interested in BECOMING A BUSINESS VENDOR click HERE!
Interested in SPONSORING THE EVENT click HERE!
---

Friday, Nov. 16, 2018 | 6 – 10 pm
Honorary Chairs:  Linda & Jim Ballinger
SHEMER HONORS is an annual dinner gala, designed after the Kennedy Honors program, that each year recognizes an Arizona artist who has achieved great success in his or her career and given back to the Arizona community. This year's event will once again honor an Arizona artist, this year Merrill Mahaffey, and will take place again on the lawn at the Shemer Art Center.  The evening will feature an art reception and dinner complete with a video presentation and interview with our honoree!  Interior design firms from across the Valley participate in providing the décor for the tables, and departing guests all leave with a gift!
For more information about table sponsorships and seating click HERE!
---

DATES:  TBD (March/April 2019)
This multi-week event will feature up to 12 tiny home and garden structure plus various elements of living small in the Southwest, including micro-gardening, micro-art and micro-brews.  Event activities will also feature demonstrating artists, workshops, live music, food and business vendors, kids activities and more!
For more details click HERE or call (602) 262-4727.