Artist Opportunities
ARTIST OPPORTUNITIES
The Shemer Art Center is dedicated to supporting and showcasing Arizona artists.
Listed below are all of the upcoming opportunities for which Arizona artists are invited to exhibit at the Shemer Art Center:
GALLERY EXHIBITIONS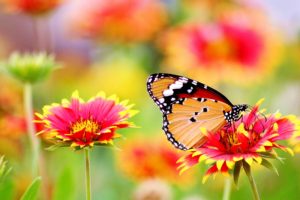 NATURE'S KINGDOM
A juried exhibition open to Arizona artists featuring art that contain both nature and animals, in all mediums.
Aug. 28 – Oct. 5, 2019 | Opening Reception: Sept. 12, 6-8 pm
---
ARIZONA DESIGNER CRAFTSMEN
A group exhibition by members of the Arizona Designer Craftsmen, celebrating ADC's 60th Anniversary!
Oct. 9 – Nov. 7, 2019 | Opening Reception: Oct. 10, 6-8 pm
---

COLLECTED TREASURES
A juried exhibition open to Arizona artists featuring mixed media artwork.
Nov. 13, 2019 – Jan. 2, 2020 | Opening Reception Nov. 21, 6-8 pm
---
2019 EVENTS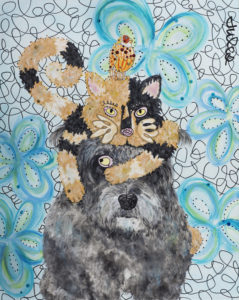 "The Official Furry Friends Hug… Larry, Elsa & Steve The Bird"
by Jules Gissler

 Saturday, Oct. 5, 2019 | 8 am – 2 pm
The 2019 FURRY FRIENDS FINE ARTS FESTIVAL will take place at the non-profit Shemer Art Center for both animal AND art lovers! This fun, animal-themed arts festival is "purr-fect" for the ENTIRE family!  Highlights include paw readings and pet adoptions by the Arizona Humane Society!  Juried artists will showcase animal-themed paintings, drawings, photography, ceramics, and more. Business vendors, live music, entertainment, and food & beverage vendors such as Black Cat Coffee will make it a day to remember!
Admission:  $5 per person, $15 per family | Furry Friends are Free!
Saturday & Sunday, Nov. 2 & 3, 2019 | 10 am – 4 pm
Each year this two-day event kicks-off holiday shopping with more than 40 artists specially selected from all across Arizona showcasing one-of-a-kind works, plus artist demonstrations and interactive opportunities to create your own gifts!  There will be children's art activities in an interactive $5 Kids Zone, live music, food & beverage vendors, and a silent auction!   The annual Shemer Arizona Arts Festival is a fun, family way to enjoy the art of Arizona AND benefit the non-profit Shemer Art Center!
Admission: FREE!   
For more information click HERE!
---

Friday, Nov. 15, 2019 | 6 – 10 pm
SHEMER HONORS is an annual dinner gala, designed after the Kennedy Honors program, that each year recognizes an Arizona artist who has achieved great success in his or her career and given back to the Arizona community.  Last year's event honored Merrill Mahaffey.  This year's event will once again take place on the lawn at the Shemer Art Center.  The evening will feature an art reception and dinner complete with a video presentation of our honoree!  Interior design firms from across the Valley participate in creating themed-centerpiece décor for the tables, and departing guests leave with a gift!
More information about table sponsorships and seating to posted soon.  For information about our 2018 event, click HERE!
---
2020 Events:

         Saturday, April 4, 2020 | 10 a.m. – 4 p.m.
The 2019 Art in the Garden & Sparkling Tea event will be held Saturday, April 6 at the Shemer Art Center.  This fun, mid-morning and afternoon event will feature a colorful display of garden-themed artist tents, showcasing the latest in florals, botanicals, ceramics, wood and wearable art, as well as live music, a variety of art and garden demonstrations, food and beverages, and a silent auction, followed by a ticketed, Sparkling Tea on the back, garden patio.
Admission: Art in the Garden – TBD
Admission: Sparkling Tea Party – TBD
All funds raised from this event will be used to support the Shemer Art Center's Summer Camps, held for four weeks in June.  Proceeds will help underwrite the cost of scholarships, instructors and supplies.

MARCH & APRIL 2020
This multi-week event, held in the Spring every other year at the Shemer Art Center, will, in 2020, combine our Art in the Garden event with up to 12 artfully designed tiny home and garden structures, plus various elements of living small in the Southwest, including micro art, micro-gardening and micro-brews.  Event activities will also feature demonstrating artists, workshops, live music, food and business vendors, kids activities and more!
Admission:  TBD
For more details about our last event click HERE or call (602) 262-4727.
---
Solo-Exhibition Opportunities:
The Shemer Art Center and Museum greatly encourages Arizona artists to submit solo-exhibition proposals for our 2020 and future calendars.
To apply please follow the instructions listed in this Solo-Exhibition Proposal.
---
Teaching Opportunities:
Call For Instructors
The Shemer Art Center is always interested in speaking with potential instructors interested in leading workshops for children, teens and adults.  Current topics of interest include mosaics, paper flower making, basic drawing for teens, and zentangle.  After-school art classes for kids ages 6-13 are also of interest.
Whether your medium is drawing, painting, printmaking, photography, metal-smithing, sculpture, jewelry design, ceramics, glass, calligraphy or book arts, please consider presenting us with your ideas!  We are also currently seeking an instructor to lead our Family Fun Night classes.
If you are interested in teaching at the Shemer Art Center, send an email to info@shemerartcenter.org with the subject line "[Topic] Class Proposal from [Your Name]" and include:
New Call for Instructors worksheet per class/workshop
Course Description
Materials List for students (if required)
CV/Resume
Artist Statement or Biography
Contact Information for three Recent Professional References  (can send us this later, once we have contacted you)
Images of Your Work
Images of Your Students' Work (Optional, but Preferred)
Incomplete proposals will not be accepted!  
All candidates for instruction are subject to background review by the Shemer Art Center Executive Director and Staff. 
---
Sales Opportunities:
Shemer Gift Shop
After assuming management from the City of Phoenix, the Shemer Art Center's staff and non-profit board created a gift shop that showcases Arizona artists and artisans.  Since its opening in 2012, the gift shop has grown in popularity and size, and now features the work of over 60 artists!
Because our mission is to encourage and support local artists, the Shemer Art Center works with artists in exchange for only a 30% commission on the sale of all works consigned. All artists showcased in the gift shop must also be members of the Shemer Art Center.
Please Note: New artist work is reviewed twice a year: August and February, by the Shemer Artist Advisory Committee.  Artwork must be received by the end of July for the August review, and by the end of January for the February review.
If you are interested in having your work for sale in our gift shop, please read and fill out the Gift Shop Application, and email it to us at anne@shemerartcenter.org with the subject line "[Your Name] Gift Shop Submission Proposal" and:
Images of your work (please indicate approximate sizes)
Range of Prices
Your CV/Resume or Artist Biography (attached)
Our Gift Shop Manager will review with an artist advisory committee your work in accordance with our bi-annual submission policy and if you are accepted, she will contact you to arrange an appointment to further discuss the consignment of your pieces.
Thank you for your interest in the Gift Shop at the Shemer Art Center!  Your participation and the contribution of your work allows us to continue sharing visual art with the community!