In 2020 the Shemer Art Center launched a campaign to expand its visual art presence in Arcadia. At that time we were focused on acquiring the parcel and home to our immediate south, which was for sale. Then, the COVID-19 pandemic hit.  Now, after undergoing a lengthy due-diligence process, we have decided instead to construct a purpose-built building on our own land. This new, state-of-the-art structure will be specifically designed to allow us to expand our highly desired offerings and legacy in Arizona, yet still remain within our current property boundaries.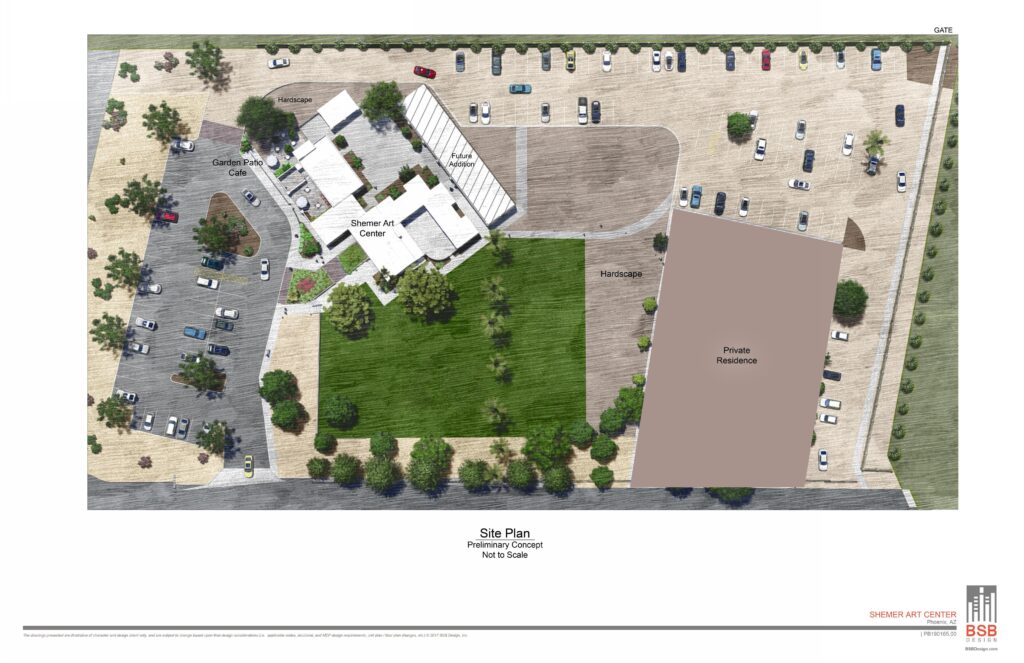 Proposed Shemer Art Center New Site Plan, Showing New Building Location
A NEW BUILDING WILL PROVIDE THE SHEMER ART CENTER WITH:
additional space for more visual art classes, workshops, and lectures for adults;
more classrooms for a second set of Summer Camps, currently reaching over 130 children/month ages 6–13;
more space for a second After-School or Saturday Art Club for children ages 8-14, from public and Title I schools;
additional rooms for art classes for teens, ages 12-18;
more storage space; and
the opportunity to hire more instructors, and support and showcase more Arizona artists!
CLICK HERE TO WATCH OUR INITIAL VIDEO, SHOWCASING THE SUPPORT OF MAYOR GALLEGO.  Although our plan has changed, the goal remains the same: to increase our capacity!
The expansion of the Shemer Art Center will allow us to potentially double our impact within the community! Our campaign also includes additional site landscaping, with an extended lawn and defined hardscape areas for events, plus additional sculptures, showcasing more Arizona artists!
We are seeking donors like Martha Shemer, who are interested in showing their support of the arts, giving back to the community, and strengthening the legacy of this Arcadia neighborhood gem.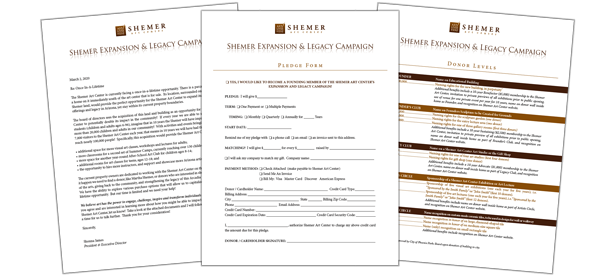 PLEASE CLICK ON ONE OF THE LINKS ABOVE FOR MORE INFORMATION.
To donate please call the Shemer Art Center at 602-262-4727 or submit a pledge form.
FOR MORE INFORMATION CONTACT SHONNA JAMES, shonna@shemerartcenter.org. 
THANK YOU!