SHEMER ARIZONA ARTS FESTIVAL
Make plans now to attend one of Arizona's premiere arts festivals!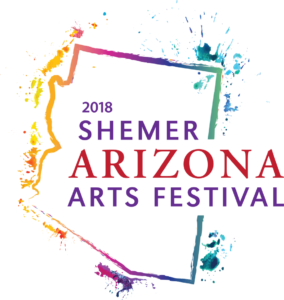 Formerly Sunday @ Shemer, this event has been held since 1998 at one of the most historic sites in Phoenix, the Shemer Art Center!  This year, the Shemer Art Center is pleased to announce that this event will once again be a two-day event, to be held Saturday and Sunday, November 3 & 4, from 10 a.m. – to 4 p.m., and admission to this year's event will once again be FREE! 
It will also serve as the site of the rescheduled G.A.I.N. event, hosted by the Arcadia Camelback Mountain and Arcadia Osborn neighborhood associations!  Date:  Saturday, Nov. 3.  Time:  2-5 p.m!
This newly branded event will be held just in time to kick-off holiday shopping!  Over 40 artists from all across Arizona will feature one-of-a-kind works of art, plus some will be demonstrating interactive blacksmithing, pottery wheel-throwing, and more. The event will feature a $5 Kids Zone with interactive arts activities and a free t-shirt for all children who enter, plus sculpture garden tours, live music, food & beverage vendors, and a silent auction!
This year's event is also once again be a stop on the Camelback Studio Tour and Sale, taking place at eight home studios on Friday, Saturday and Sunday, November 2, 3 and 4, 2018!  It is a great place to enjoy breakfast or lunch during the tours!
Featured Artists at the 2018 Shemer Arizona Arts Festival Include:
Alix Alejandro, Velma Barder, Roger Bedard, Sandy Blain, Cindy Carrillo, Gerri Dames, Hristi Dimitrova Wilson, Allison Echanove, John Erwin, Elliott Everson, Julius Forzano, Jules Gissler, Dave Hanson, Robbie Hopwood, Kathleen Lawrence-Davis, Kara Marshall, Rami Myron, Glennda Neff, Mike Pearson, Fritz Pender, Cheri Reckers, Parris Richie, Don Ridley, Michelle Rodeman and Robert McLeod, Sal Romano, Christine Sandifur, Alice Slack, Linda Taylor, Olivia Thomas, Jared Trask and John Tzelepis.  There will also be a variety of demonstrating artists including artists demonstrating wheel throwing, flame working, and an entire blacksmith village with blacksmiths from all over Arizona!
2018 Arizona Celebrities will include:
Sam Pillsbury, Owner of Pillsbury Wine Co.; Karen Randau, Author, Rim Country Mysteries, and others!
Media Partner:
"Since 1984 the Shemer Art Center has supported and showcased Arizona artists," said Shonna James, Executive Director.  "This two-day event gives us the opportunity to showcase emerging and established artists from all across the state, and further display the talent we have here in Arizona. Plus the free admission will allow even more families to attend."
For more information about the Shemer Arizona Arts Festival or the Shemer Art Center, located at 5005 E. Camelback Road, Phoenix, AZ 85018, call (602) 262-4727, email info@shemerartcenter.org or visit www.shemerartcenter.org.