Art History Lectures
ART HISTORY LECTURES
Presented by Eleanor Sypher, PhD
Eleanor holds a doctorate degree in Greek and Roman civilizations from Columbia University. Join us for these educational lectures, presented with wit and humour!
Faith Ringgold
American People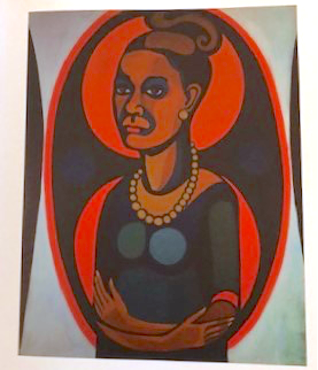 Self-Portrait, 1965, oil on canvas, Brooklyn Museum
Faith Ringgold is long-overdue for fame after her defiance of art-world fashion, her fidelity to figurative art, and her masterful originality.  Her paintings, quilts and soft sculptures draw on African Art, Impressionism, and Cubism, which she employs to express the racism in everyday life.  In her Black Light Series, she experiments with dark colors (without white) to paint black skin, copying techniques used in many African Cultures.  In 1980 she switched from oil on canvas to narrative quilts with painted fabrics. This craft was handed down to her by her mother, grandmother, and great grandmother.  She expresses herself without bitterness, looking towards a communication of hearts and minds within and between cultural and racial divisions.
Thursday, October 20, 2022
5:30 – 7:00 p.m.
Available Spaces: 7
Françoise Gilot
Her Works from 1941-2000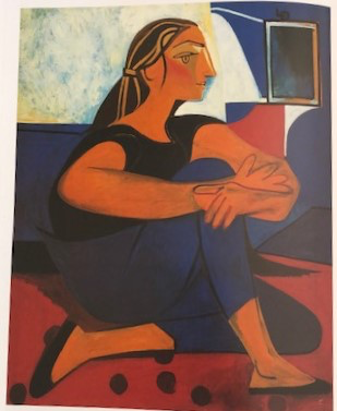 Blue Study (Self-Portrait), 1953, oil on panel,
Collection Patricia and Norman Barken, CA
Gilot is famous for living with Picasso, with whom she had two children, Claude and Paloma.  She met Picasso in 1943 (at the time she was 21 and he 61) and moved in with him in 1946.  When he began abusing her she left with their children in 1953.  After they split, he persuaded galleries not to sell her artwork and tried to prevent the publication of her memoir, Life with Picasso, in 1964.  Nonetheless, she let her talents flourish and she developed her own style of cubism expressed with bright colors and organic forms.  Her lively and rhythmic figures vary between representational and abstract.
Thursday, November 17, 2022
5:30 – 7:00 p.m.
Available Spaces: 12
A $15 contribution is requested to attend these presentations and enjoy the beverages and hors d'oeuvres provided.
** In order to allow for safe social distancing, attendance will be limited. If you would like to learn more about our safety procedures, please contact us for a copy of our Safety Code of Conduct. **
SHEMER ART CENTER | 5005 E. Camelback Rd., Phoenix 85018
Information & Reservation (required) | 602.262.4727