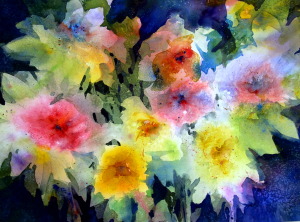 WATERCOLOR TECHNIQUES with John Erwin
Watercolor can be elusive and challenging, even to those that have worked in the medium before.  John Erwin instructs in a way that helps experienced watercolor students create more successful paintings than ever before.
In this class students will learn more about composition, value, color mixing and design. John will instruct on how to start and complete a painting using the elements and principles of watercolor.  Each week you will build techniques and skills like wet into wet, negative painting and dry painting to guide you into more complex, finished paintings.
For intermediate/advanced watercolor students
Tuesdays  1:00 pm – 4:00 p.m.  | August 22 – September 26, 2023 | 6 sessions  |  $225
August 22, 2023 - September 26, 2023




1:00 pm - 4:00 pm