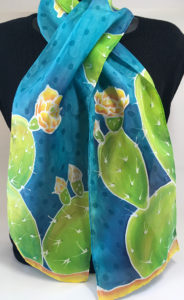 SILK PAINTING: THE SERTI TECHNIQUE with Cheri Reckers
In this workshop, students will have the opportunity to learn the art of silk painting using the serti technique (serti: meaning to "outline or enclose") to create a beautiful, one-of-a-kind, silk work of art.
During the workshop, students can choose to create their choice of a silk scarf, wall hanging or a table runner on silk habotai using fluid textile paint and water-based resist. Students will have the opportunity to experiment with watercolor techniques and add texture with salt. Students can create their own design or use one provided by the instructor. After the workshop, students will take their finished silk painting home with them.
No experience necessary! Just come and have fun!  All materials are provided!
Cheri Reckers earned her BFA with honors from the Columbus College of Art & Design and  has been a professional silk painter for almost 30 years. Her award-winning silk paintings and wearable art have been exhibited nationally and internationally and have appeared in numerous publications. Cheri has been honored with the Master Silk Painter designation from Silk Painters International.
Saturday, September 23, 2023  |  10 a.m. – 2 p.m.  |  $100, plus $15 materials fee 
September 23, 2023




10:00 am - 2:00 pm