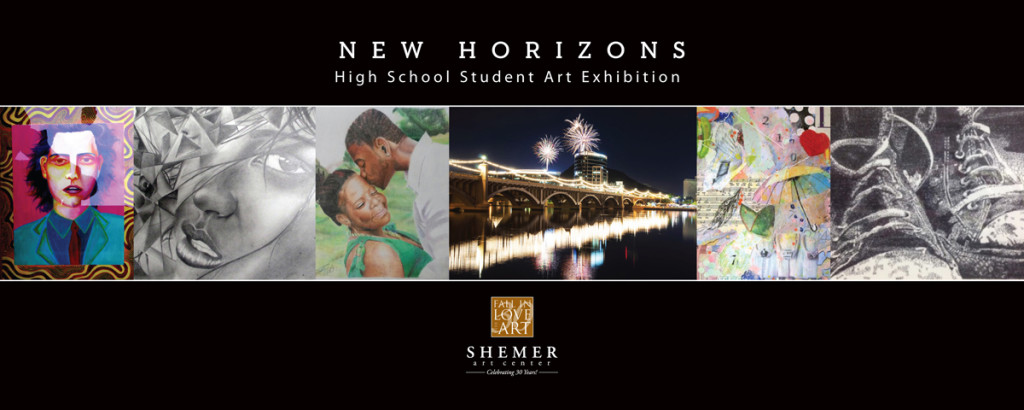 New Horizons High School Student Art Exhibition features local talent from High Schools around the valley! Every year, 2 students from each school are nominated to showcase their work, with the chance of also winning awards. This year 37 schools participated, totaling 47 works of art, all created by High School students in the valley!
The exhibition runs from January 8th – January 22, 2015.
The awards ceremony will be held on Saturday, January 17th, 10am – 12pm @ Shemer Art Center.
Einstein's bagels, coffee and orange juice will be served!
Participating Artists & High Schools Include…..
Apollo High School
Nicole Radenmacher
Ashley Melton
Arcadia High School
Michael Mendiola
Carleigh Caveness
Basha High School
Carson Smith
Skylar Bankson
BASIS Scottsdale
Tia Forsman
Amalia Ono
Cactus High School
Noah Sharp
Jevonne Taylor
Chandler Preparatory Academy
Natalie Lopez
Maryn Wilson
Chaparral High School
Amberly Johnson
Sela Britton
Corona del Sol High School
RayAnn Galindo
Rachel Seacat
Cortez High School
Sheren Meadi
Alexandra Ferris
Deer Valley High School
Richard Jiang
James Plogman
Desert Mountain High School
Carson Zick
Hitomi Ozaki
Dobson High School
Megan Ewy
Maxwell Henderson
Gilbert High School
Ashlee Larry
Samantha Clark
Glendale High School
Karen Gamez
Justus Warren
Greenway High School
Taylor Pennington
Aaron Gordon
Highland High School
Hailey Nolen
Erin Helfich
Horizon High School
Annie Hull
Sunyou Jeony
 Independence High School
Stephanie Vazquez
Jaira Munoz
Ironwood High School
Ashley Chen
Ruby Nelson
 La Joya Community High School
Alexis Adame
Jahnez Wong
 Maryvale High School
Carla Guzman
Angel Lopez
 Millenium High School
Natalie Flores
Moon Valley High School
Kayla Bates
Eduardo Leanos
Mountain Pointe High School
Michaela Griego
Sierra Zirbes
New School for the Arts & Academics
Emily Caldera
Angela Cordoso-Silva
 North High School
Daniella Linero
Jennifer Macias
Phoenix Christian High School
Ashley Gonzalez
Abby Dongfang
 Pinnacle High School
Claire Tomkiw
Nikea Lopez
Raymond S Kellis High School
Natalie Gerges
Ruben Gutierrez
 Red Mountain High School
Nicole Reeves
John Sabbagh
Saguaro High School
Ericka Jefferson
Kaylin Sweeney
 Shadow Mountain High School
Justin Burbank
Vincent DiMartini
  South Mountain High School
Maria Dominguez
Brenda Mejia
Sunnyslope High School
Emily Nesbeitt
Maia McDay
  Tesseract School
Ellis Green
Kinsey Hoag
 Thunderbird High School
Caitlyn Cady
Andrew Muskustevc
Willow Canyon High School
Melody Korkora
Nyla Bevel