Art Renaissance Lectures
RESCHEDULED!
Due to unexpected circumstances, this March 14 lecture has been rescheduled to: 
April 11, 2019 | 6 – 7:30 p.m.
Toulouse-Lautrec
1864-1901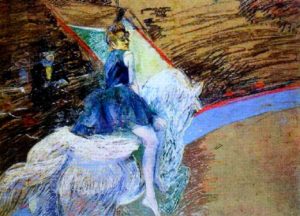 Toulouse-Lautrec, La Cavaliere (The Rider), 1888
Henri de Toulouse-Lautrec was born into one of the oldest French aristocratic families – the Counts of Toulouse brilliantly served during the Crusades. Because of a genetic disease probably due to centuries of inbreeding (his two grandmothers were sisters, his parents were first cousins, etc.), his legs never developed normally, which made his an outcast among his peers. Thanks to a loving mother, he was able to develop his interest in the arts and become a colorful figure in the crowed Paris art scene at the end of the 19th century. Familiar with and influenced by the Impressionists, he established his own, distinctive visual language. However, he never overcame his physical appearance and found solace in alcohol and the friendly company of prostitutes. He died at the early age of 37.
Presentation & Slide Shows by Michel Sarda
Limited space available.
A $10 contribution is requested to attend the presentation and enjoy the beverages and hors d'oeuvres provided.
SHEMER ART CENTER
5005 E. Camelback Rd., Phoenix 85018
Information & Reservation (required) | 602.262.4727