Class Registration
ART HISTORY LECTURES- Winslow Homer
Description:
The Watercolors of Winslow Homer
1836 - 1910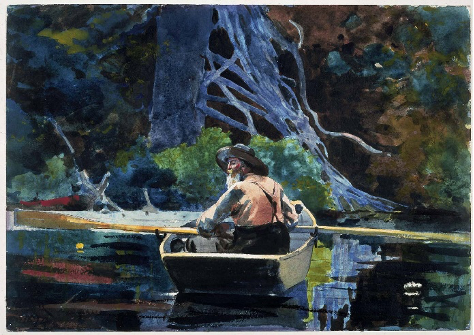 The Adirondack Guide, 1894, watercolor over graphite on paper, Museum of Fine Arts, Boston
Homer is thought to be the essential American artist:  independent, plain spoken, and a believer that art can reproduce the blunt facts of life.  He is famous for his fascination with struggle. With work ranging from Civil War scenes, to men in the woods, at sea, in Maine, in rural New York, Florida, the Bahamas and Bermuda.  His watercolors are freely applied in bold strokes and broad washes with a native sense of color and of the subtleties of light and shadow.
Homer's advice to artists:  "Look at nature, work independently and solve your own problems."
Thursday, May 18, 2023
5:30 – 7:00 p.m.