Class Registration
ART HISTORY LECTURES- Romare Bearden
Description:
Romare Bearden
1911 - 1988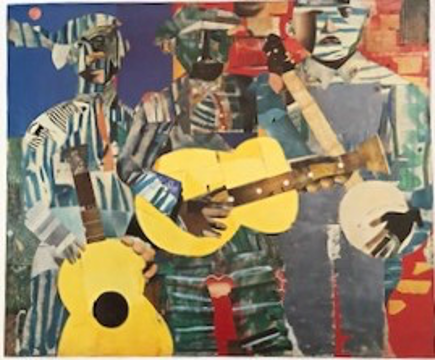 Three Folk Musicians, 1967, collage of various papers with paint
and graphite on canvas, Private Collection
Born in North Carolina, Romare Bearden grew up in New York City and Pittsburgh, then graduated from NYU in 1935.  He studied history and philosophy at the Sorbonne in Paris.  Famous for his collages, Bearden was an artist in many media—oil and gouache, watercolors, drawings, photographs, prints, book and cover illustrations.  He began his collages in 1963-64, combining images cut from magazines with colored paper.  He took imagery from African-American rural life in the south and urban life in the north.  Of the collages, he said:  "When I conjure these memories, they are of the present to me, because, after all, the artist is a kind of enchanter in time."
Thursday, March 16, 2023
5:30 – 7:00 p.m.