Class Registration
SK-04-22 Floral Collage Using Gelli Prints with Sherry Kimmel
Description: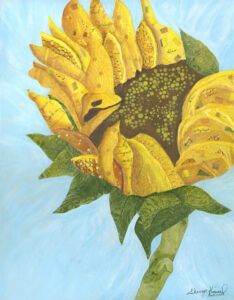 FLORAL COLLAGE USING GELLI PRINTS with Sherry Kimmel
Open your mind to a new way of decorating papers for a Floral Collage using a Gelli Plate. Gelli Plates are fun and exciting to use for the Collage process.  To decorate papers Sherry will teach a variety of techniques in Gelli Printing using stencils, embossed papers/wallpapers, masks, Mosiac Tiles, alcohol resist, texture rubbing, and soap bubble resist..  These techniques are used for collage, altered books, and mixed media artists.  Come join the fun as we get creative
with our Gelli Plates!
All levels are welcome.
**Masks are no longer required in classes but are encouraged for those who feel most comfortable continuing to wear them. 
Wednesdays, October 5 - October 26 | 1pm-4pm | 4 sessions  | $140