Class Registration
ART HISTORY LECTURES- John Singer Sargent
Description:
John Singer Sargent, 1856-1925
Presented by Eleanor Sypher, PhD
Eleanor holds a doctorate degree in Greek and Roman civilizations from Columbia University. Join us for these educational lectures, presented with wit and humour!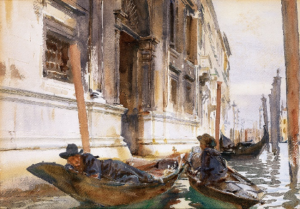 Gondoliers' Siesta, 1904, watercolor
John Singer Sargent's prosperous family moved from Philadelphia before Sargent was born and were nomads, moving through Europe with long stays in France, Spain, Italy, Germany, and Switzerland.  The artist's first language was English, and he quickly acquired fluency in French, Italian and German.   His mother, an amateur watercolorist, encouraged his artistic talent at an early age.  At 18 he easily passed the rigorous exam to enroll in the École des beaux-arts and soon developed into a master portrait painter, influenced by a close study of Velázquez, Hals, El Greco, Goya, and Degas.   His subjects included Henry James, William Butler Yeats, Theodore Roosevelt and Claude Monet.  Henry James noticed that Sargent was "civilized down to his fingertips."  Throughout his life, Sargent painted in watercolor, and, after 1900 it was the focus of his work.  Because of his watercolors, Sargent warrants the labels modernist, and even revolutionary.
Thursday, March 17, 2022 | 5:30 – 7:00 p.m.