Class Registration
BB-07 Alcohol Ink on Yupo with Barbara Bagan
Description: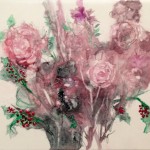 *Yupo is 100% recyclable, waterproof, tree-free synthetic "paper." It is sold in pads or by the sheet. The pads usually come in 9 X 12 or 11 X 14 which can be cut into smaller pieces, 5x7, 4x6, 5x5, etc.
Working on Yupo with alcohol inks when applied to a non-porous surface is simple and quick, resulting in beautiful and colorful pieces of art in just a few minutes.   The spontaneity of the media and the variety of techniques are unpredictable, fascinating, and very exciting.
Few mistakes cannot be rescued. With Yupo you can always just wipe it off and begin again.  The process requires speed and patience, letting go but "sort of " being in control. It can be meditative and stimulating, and/or frustrating and satisfying.
Barbara is a member of SAL, AWA, APAA and a juried member of Arizona Art Alliance. She has taught college, university, and studio courses in her native Midwest and in Arizona since moving here in the late 80s.   Barbara is the Professor in Charge of the Expressive Arts Therapy Program at Ottawa University in Phoenix, AZ. She has exhibited and won awards for her art in Iowa, Minnesota, Nebraska, and Arizona. After painting in oils for the first part of her art career, she now works primarily in acrylics, watercolors, pastels, and only recently discovered the challenges and delight of Yupo, liquid watercolors, and alcohol inks.
Saturday |10:00 am - 1:00 pm | October 7, 2017 | 1 Session | $55 plus $10 materials fee paid to instructor