Class Registration
ART HISTORY LECTURES- Françoise Gilot
Description:
Françoise Gilot
Her Works from 1941-2000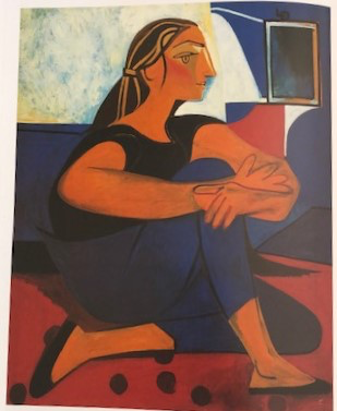 Blue Study (Self-Portrait), 1953, oil on panel,
Collection Patricia and Norman Barken, CA
Gilot is famous for living with Picasso, with whom she had two children, Claude and Paloma.  She met Picasso in 1943 (at the time she was 21 and he 61) and moved in with him in 1946.  When he began abusing her she left with their children in 1953.  After they split, he persuaded galleries not to sell her artwork and tried to prevent the publication of her memoir, Life with Picasso, in 1964.  Nonetheless, she let her talents flourish and she developed her own style of cubism expressed with bright colors and organic forms.  Her lively and rhythmic figures vary between representational and abstract.
Thursday, November 17, 2022
5:30 – 7:00 p.m.