Class Registration
ART HISTORY LECTURES- Japonisme
Description:
Japonisme
Japanese Influence on Western Art in the 19th and 20th Centuries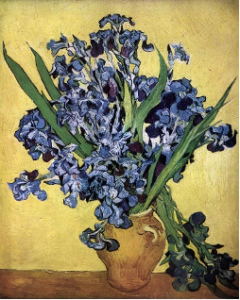 Vase with Irises Against a Yellow Background, 1890,
oil on canvas, Van Gogh Museum, Amsterdam
The forced reopening of trade between the West and Japan happened under the command of the American Commodore Perry in 1853-54.  This shift was followed by exhibitions of Japanese art in London and Paris.  Samuel Bing, in Paris, founded a journal  publishing representations of Japanese Art and opened a shop that offered thousands of Japanese woodcuts and he, in effect, created Japonisme.
The Impressionists and Post Impressionists, always looking for a way to replace the outmoded academic style, adopted this novel art with great enthusiasm.  Its characteristics are flat perspective, brilliant colors with no shading, partial view, all-over decoration, and tall pillar pictures.  We will look at the artists who were much engaged with this style:  Manet, Whistler, Degas, Monet, van Gogh, Klimt, Toulouse-Lautrec, Bonnard and Vuillard.
Thursday, September 15, 2022 | 5:30 – 7:00 p.m.