Class Registration
JGP-43-22 VIRTUAL CLASS - WATERCOLOR UNLEASHED: RE-VISIT YOUR SUMMER VACATION or PAINT YOUR FAVORITE PHOTO with Julie Gilbert Pollard
Description: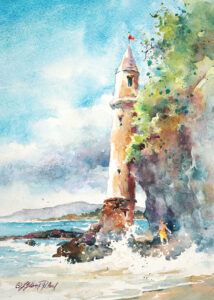 VIRTUAL CLASS - Watercolor Unleashed: Re-Visit your Summer Vacation or Paint Your Favorite Photo with Julie Gilbert Pollard
It's October and summer vacation memories are fading. Bring them back! Painting allows artists to re-visit the places they've been. The first photo reference/painting project will be supplied, after which students will choose one of their own photos - from a super summer getaway OR of course, any other photo you wish to paint!
There will be demonstrations of techniques suitable for the subject matter, exercises, critique and lots of painting time. All levels are welcome and encouraged to attend. Class time will be structured, yet open enough to accommodate the artistic spirit within us all. The only prerequisite is an attitude of joy in the act of painting!
All Levels | Tuesdays 1:00 - 4:00 pm | October 18- November 15, 2022  | No class Nov 1 | 4 sessions |  $140