Class Registration
JGP-42-22 VIRTUAL CLASS - WATERCOLOR UNLEASHED: PAINTING FROM PHOTOS with Julie Gilbert Pollard
Description: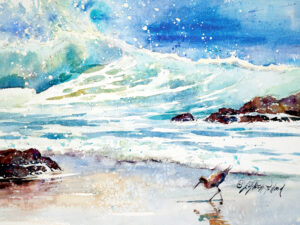 VIRTUAL CLASS - Watercolor Unleashed: Painting from Photos with Julie Gilbert Pollard
The focus of this class will be to combine the "reality" of the landscape as seen by the camera with the passion brought to it from memory and imagination. By concentrating on shape and value as the most important of the building blocks of painting, students will use "color-as-value" to stimulate an emotional response from the viewer. Students will learn to use unexpected color combinations in unpredictable ways to convey how they see AND feel about the world. Technique will be studied also, as a necessary component to the "big picture" of landscape painting.
A photo will be provided for students to use for the first class study. Bring reference material for the following class. There will be demonstrations of techniques suitable for the subject matter, exercises, critique and lots of painting time. All levels are welcome and encouraged to attend. Class time will be structured, yet open enough to accommodate the artistic spirit within us all. The only prerequisite is an attitude of joy in the act of painting!
All Levels | Tuesdays 1:00 - 4:00 pm | August 23 & 30, 2022  | 2 sessions |  $70