Class Registration
JGP-30-20 Watercolor Unleased: Watercolor Basics with Julie Gilbert Pollard
Description: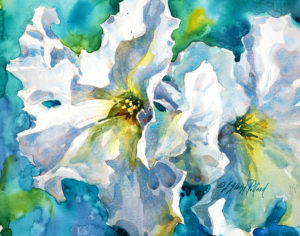 WATERCOLOR UNLEASHED: WATERCOLOR BASICS - REVIEW FOR ADVANCED AND BEGINNING STUDIES with Julie Gilbert Pollard
Watercolor is considered to be the most challenging medium. This class will focus on what Julie considers to be the "basics" of watercolor, which she finds necessary to review on a regular basis. Regardless of one's facility with the medium these techniques and procedures are critical for the watercolor painter who is at an advanced stage OR at the beginning of their watercolor studies. Using floral subject matter, wet-into-wet, wet-on-dry, negative painting, washes, techniques and more will be studied.
Reference photos will be supplied, or students may use their own. There will be demos, instruction at all levels, critique and lots of painting time. Class time will be structured, yet open enough to accommodate the artistic spirit within us all. All levels are welcome and encouraged to attend. The only prerequisite is an attitude of joy in the act of painting!
Tuesdays | 1:00 - 4:00 pm | January 7 - 28, 2019 | 4 sessions  | $140