Class Registration
KH-01-19 Ceramics Zoomorphic Vessels with Kimberly Harris
Description: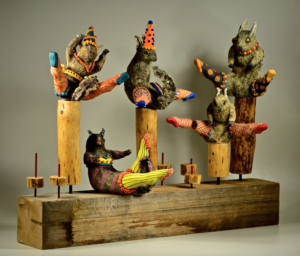 CERAMICS "ZOOMORPHIC" VESSELS with Kimberly Harris
Create ceramic vessels or bottles that incorporate animal parts and pieces. Projects can be created as single-piece objects, or they can be multiple pieces that when combined assemble to create one animal. The vessels can have lids or bottle stoppers. The parts and pieces might be tails, wings, ears, snout, etc.
On the first day of the workshop, students will gain knowledge on how to use molds, tubes and other objects to create the parts. The workshop will also teach students how to score, slip and assemble the pieces to create their animal vessels. There will be exploration of tools to create scales, fur and other animalistic textures.
During the second day of the workshop students will work on finishing touches to their to their zoomorphic vessels. There will be demonstrations of different oxides, glazes and under-glazes to give the student a view of their different options for finishing the piece.
Saturday, September 21, 2019  |  10 a.m. - 4 p.m.  |  $140, plus $35 materials fee paid directly to the instructor the first day of class
Workshop Wrap-Up on Saturday, September 28, 2019  |  10 a.m. - 12 p.m.