Class Registration
SO-03-19 Fantasy Cacti Zentangle with Suzanne O'Malley
Description: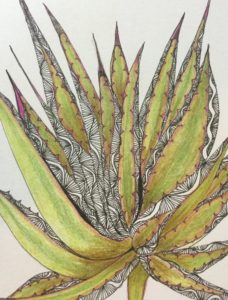 FANTASY CACTI ZENTANGLE with Suzanne O'Malley
Zentangles are miniature pieces of unplanned, abstract art, created through a very specific method, to form structured patterns. In this workshop students will be using templates to trace cacti designs. They will then fill the cacti pictures in using the method of Zentangle.
As an added step, they will be applying colored pencil to their designs. Students will be amazed as beautiful patterns emerge and colored pencils help them add dimension and vibrancy to their artwork!
No materials are required and there is no materials fee. Students are encouraged to bring their own colored pencils if they have them available.
Previous experience helpful, but not necessary.
Saturday May 25, 2019  |  10 a.m. - 2 p.m.  |  $70