Class Registration
MK-11-19 Sunny Sunflowers - Asian Brush Painting with Martha Klare
Description:
SUNNY SUNFLOWERS - ASIAN BRUSH PAINTING with Martha Klare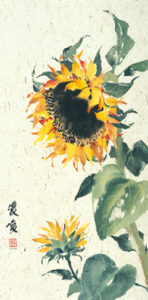 The days are longer and that means more sunny hours!   Celebrate by painting Sunflowers! Capture the essence of this flower and the season using Asian Brush Painting techniques and materials, while learning some basics of the ancient, meditative, yet spontaneous art form.  Each piece you create is a reflection of your unique ch'i (energy, spirit) in that moment of time and can never be repeated.   You will have the opportunity to create your own variations of the Sunflower to take home. This is a fun way to exercise your creativity and celebrate our longer, sunny days while exploring basics of Asian Brush Painting.
All levels welcome.
$20.00 materials fee payable (cash or check) in class.
Note: You will be working with ink and pigments that do not wash out. Please dress accordingly.
About the instructor: Martha began brush painting over 25 years ago.   She has had the opportunity to study under several brush painters of distinction in various parts of the US as well as China.   Her work has been sold internationally by several publishers as posters, framed images, greeting cards, and other.
All Levels
February 23, 2019  |  10 a.m. - 2 p.m.   |  $70, plus a $20 materials fee payable directly to the instructor on the first day of class.