Class Registration
JE-83-19 10-Minute Sketching with John Erwin
Description: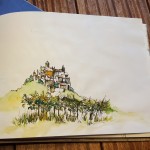 10-MINUTE SKETCHING  with John Erwin
What's the difference between a sketch and a drawing?   A sketch can be imperfect, it takes less time than a drawing, evokes emotion, and captures a moment. There is an art to making a sketch that instantly conjures a memory of time or place.
In this class, award-winning artist John Erwin shares his tips and lessons on sketching from his extensive travel over several decades. John generously shares his personal travel journals of sketches and the artistic lessons he learned along the way.
From this class you will be able to capture your travel memories in sketches. John will teach you how to set up a sketchbook and a pocket-travel sketch kit. Through specific lessons, you will learn how to create balanced compositions with perspective and value. Experience the excitement and the confidence of sketching in public. You will add people, cars and other real-life interest to your sketches. From black and white line drawing in pencil, pen or other media, John will guide you through adding color, texture and pattern to create more finished works. Working with watercolor, ink, pencil, marker and you will even use a razor blade! You will astonish yourself and your friends in your ability to capture the spirit of the place you are sketching.
All Levels
Friday  |  9:30 am-12:30 pm
January 11 - March 1, 2019 (no class 2/15)
|  7 sessions  |  $245