Class Registration
JGP-25-18 Watercolor Landscape from Photos with Julie Gilbert Pollard
Description: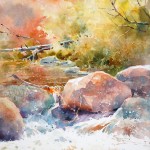 WATERCOLOR LANDSCAPE FROM PHOTOS with Julie Gilbert Pollard
The focus of this class will be to combine the "reality" of the landscape as seen by the camera with the passion you bring to it from your memory and imagination. By concentrating on shape and value as the most important of the building blocks of painting, you will use color-as-value to stimulate an emotional response from your viewer. Learn to use unexpected color combinations in unpredictable ways to convey how you see AND feel about the world we live in. Technique will be studied also, as a necessary component to the "big picture" of landscape painting.
A list of supplies will be available upon registration.
Tuesdays | 1:00 - 4:00 pm | December 4 - 18, 2018 | 3 sessions  | $105