Class Registration
CR-01-18 Silk Painting: Line, Shape, and Brilliant Color with Cheri Reckers
Description:
SILK PAINTING: LINE, SHAPE, AND BRILLIANT COLORS with Cheri Reckers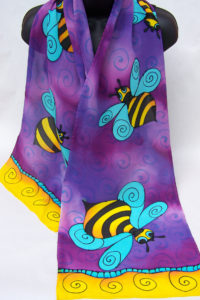 Experience the art of silk painting as you create a one-of-a-kind scarf, wall hanging or table runner on 8" x 54" silk habotai. Learn how to use water-based resist to draw on the silk and mix your own custom dye colors. We'll discuss design placement, color usage and adding texture with salts. The processes of steaming (to set the dye) and washing out the finished pieces will also be covered.
Bring your own simple design or use one of the instructor's.
No experience is necessary. Just come and have fun!read more
All Levels
December 8, 2018 | 10a.m. - 4p.m.
1 session
$105 plus $15 materials fee