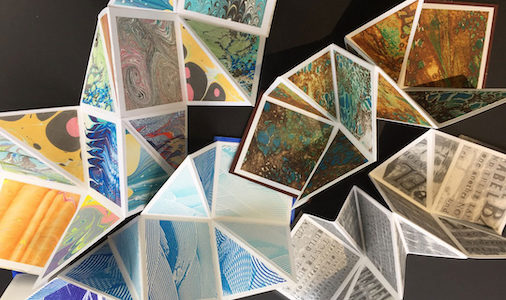 Family Fun Night: Explosion Books with Cassie Wiegmann
Enjoy a fun night filled with creativity and learning with Cassie Wiegmann. In this workshop students will create original explosion books representative of their personalities and passions, full of hand-printed artwork, collaged keepsakes and a wide variety of media. 
Learn the basics of bookmaking, gelli printing and collage. Students will are invited to bring keepsakes, photos, cards to incorporate into their books.  All materials will be provided, only a willingness to try something new is required! This class is all about family, fun and creating art and memories together!
Appetizers and beverages will be provided.  Space is limited so reserve your spot now for this workshop at the Shemer Art Center!
Families welcome!  Ages 8+
Thursday, December 14, 2023 | 6:00-8:00 pm  | 1 session
$40 per person
December 14, 2023




6:00 pm - 8:00 pm