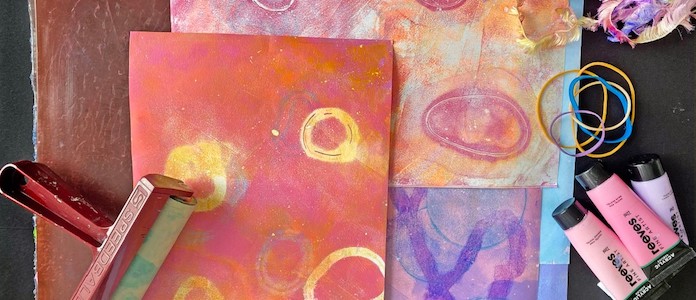 Family Fun Night: Gelli Printing Holiday Cards with Cassie Wiegmann
Enjoy a fun night filled with creativity and learning with Cassie Wiegmann. In this workshop students will learn about the fun effects of Gelli printing, creating original holiday cards just in time for the holidays!
Learn the basics of Gelli printing using snowflake stencils, texture tools, collage effects and so much more. Students will be introduced to Gelli printing, learning the basics as well as some advanced techniques.  All materials will be provided, only a willingness to try something new is required! Whether you are an experienced printmaker, or never held a brayer before, it's all about family, fun and creating art and memories together!
Appetizers and beverages will be provided.  Space is limited so reserve your spot now for this workshop at the Shemer Art Center!
Families welcome!  Ages 8+
Thursday, November 2, 2023 | 6:00-8:00 pm  | 1 session
$40 per person
November 2, 2023




6:00 pm - 8:00 pm