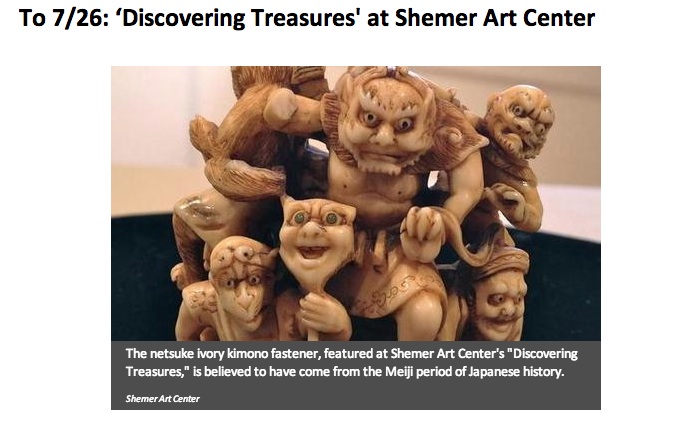 By Mindy Haskins
Special for The Republic | azcentral.com
Thu Jun 27, 2013 7:40 PM
When it comes to finding valuable artworks in unexpected places, "2012 seemed to be a big year for major finds," said Jocelyn Hanson, executive director of the Shemer Art Center in east Phoenix.
"There was a Michelangelo piece found in a country home in England, a Renoir painting bought in a flea market in Virginia, a Dali discovered at a Goodwill store," she said. "You would not expect to find these miraculous finds."
That kind of serendipity led the museum — housed in one of the oldest homes in the Arcadia neighborhood — to assemble the show "Discovering Treasures."
The center put out a call to action asking the community to bring forth their questionable art findings for appraisal. Some pieces were passed down from generation to generation; others had been tucked away in storage for years.
"Discovering Treasures" is comprised of paintings, sculptures and photographs that all come with a story or background. An untitled Frank Duveneck painting bought for $25 in Cincinnati turned out to be worth quite a lot. A netsuke ivory kimono fastener that was submitted by a local artist is believed to have come from the Meiji period (1867-1912), a time when Japan transformed itself from feudalism to a modern power.
"I was shocked when this came over to us," said Sean Morton of Morton Appraisals in Scottsdale, who helped curate the show. "The Meiji period is a big deal to collectors. It was like their Renaissance period."
"We had about 50 submissions but accepted only around 30 for the show," Morton said. "We wanted to look at the importance of each piece rather than just fill up the space."
The show also has on display three pieces featuring Salvador Dali: one print, one signed lithograph and a photograph of Dali taken by Philippe Halsman.
"The lithograph is quite astounding," Morton said. "You just don't see a lot of drawings by Dali."
There also is a signed, limited-edition print from Robert Indiana's "The American Dream" series.
"Indiana created the famous LOVE sculpture and is one of the founders of the American pop-art movement, which is also known for Andy Warhol," Morton said.
The pieces in the show are for display only, but there are some Hall china teapots and kitchenware for sale. The Hall China Co., founded in 1910 in Ohio, is known for its colorful double-glazed work, Morton said.
"They actually commissioned artists to design the teapots instead of having a staff," he said.
Hanson, an avid collector of Hall china, said the pieces in the collection are from the 1920s Art Deco period. Several are for sale through the end of July, ranging in price from $40 to $200.
The center is a bit of a discovered treasure itself.
Nestled near the foot of Camelback Mountain, it originally was a small house built in 1919 for water-well drillers working for Arcadia real-estate investors. After several decades, owners and remodels, the house was acquired by Arcadia resident Martha Shemer and donated to the city in 1984.
The center is hosting special events throughout the summer to complement the exhibit. The public is invited to bring their findings to an appraisal day July 17, when Morton will conduct professional appraisal sessions. On July 13, Morton will lead a lecture on the climate of the art marketplace. More information can be found on the Shemer Art Center website.